April: Distracted Driving Awareness Month
April 11, 2023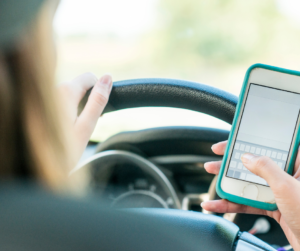 "Enough with the phones already. Just put them down."
That's the message from the National Highway Traffic Safety Administration (NHTSA) during April. And of its U Drive. U Text. U Pay initiative that saw New York State law enforcement mobilize to step up patrols watching for distracted driving April 3 through April 10 of this year.
During Distracted Driving Awareness Month last year, police issued 2,860 distracted driving tickets in this short period of time.
Distracted driving claimed 3,522 people killed in 2021. That's slightly more than 9 people per day, up from 2,841 people killed in 2018.
And 8% of fatal crashes in 2021 involved distracted drivers. The guess is that approximately 32,000 drivers died in crashes involving distracted driving from 2012 through 2021.
With so many accidents resulting from people texting and driving, we hope the law enforcement patrols keep up their good work watching for distracted driving all of this year!
According to the NHTSA, "Distracted driving is one of the fastest growing safety issues on the roads today. Distracted drivers aren't just a threat to themselves; they are a danger to everyone else on the road."
It's estimated that at any moment in America, approximately 660,000 drivers are using or manipulating electronic devices while driving. So we thought some tips to make it easier to stay away from your phone might help:
If you absolutely have to receive a text, pull over to a safe location and park your car first.
Appoint a passenger as a "designated texter" to handle all of your texting.
If you just can't stop looking at your phone out of force of habit, put it in the trunk.
Take the Pledge
The NHTSA offers this pledge for you to promise yourself you won't text and drive.
"The fight to end distracted driving starts with you. Make the commitment to drive phone-free today.
Protect lives by never texting or talking on the phone while driving.
Be a good passenger and speak out if the driver in my car is distracted.
Encourage my friends and family to drive phone-free."
We have written about this before in our blog. But on the way to the grocery store or the golf course, we've all experienced an oncoming car coming at full speed in our lane. It's frightening and enraging. We hope you agree that we can't talk about this enough until people realize that, "One Text or Call Could Wreck It All."
We are grateful for the beautiful weather this week and want everyone in the Utica area to be able to enjoy it. So when you're on the road, take the advice of the National Safety Council and "Just Drive."
And check out these websites (quotes above from these sites) for some excellent ways for you to spread the word about the dangers of distracted driving: NHTSA and NSC.
Until next time,
Your SZW Team
SZW Insurance is your Utica area Trusted Choice™ independent insurance agent. Call us for a quote on insurance for your home, car, business, or life at 315.792.0000. Or request a quote here.