The Right Boat Insurance for the Best Price
March 28, 2023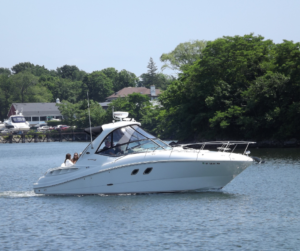 A spring tide lifts all boats…at least all the boats owned by those who love the lakes, rivers, and canals in the great state of New York. Now that spring is here and summer is around the corner, it's time to think about getting your boat ready for the water.
And that includes the insurance. Your coverages and rates are affected by the size, type, and value of your boat. Also the bodies of water you navigate in.
Your physical damage coverage usually includes the boat, motor, and trailer combined. In addition, a special boat insurance policy includes liability coverage.
Boat Insurance Coverages
Physical Damage: Collision coverage pays for damage to your boat from accidents. Comprehensive coverage for theft, vandalism, fire, heavy winds, or sunken boat.
Liability: Bodily injury and property damage liability covers if you're sued as a result of an accident.
Fuel Spill: Sunken boat or mishap at the fueling station.
Wreckage Removal: If your boat sinks and is legally required to be removed, this coverage will cover the cost.
Roadside Assistance: If you have a trailer, this pays for the tow of your disabled vehicle to the nearest repair shop.
Water Sports Coverage: Pays for injuries or damages caused by tubing, knee boarding, wakeboarding, wake surfing, or the like.
Ask Us About These Optional Boat Insurance Coverages
Total Loss Replacement
On-Water Towing
Fishing Equipment or Carry-On Items
Mechanical Breakdown Coverage
Uninsured/Underinsured Boater
Medical Payments
Trailer Trip Interruption
Fishing Boat Insurance
These are small, lightweight boats used to fish in New York's fresh water lakes, streams and rivers. They're designed for fishing with a flat deck and the stability necessary to cast in any direction.
Key insurance coverages for fishing boats are mechanical breakdown and fishing equipment coverage. This covers rods, reels, tackle boxes and personal effects you carry on your boat.
Pontoon Boat Insurance
Best known in Upstate New York and the Adirondacks as "party barges," these fun, family crafts have become very popular. Personal effects coverage is available, and as with fishing boats, separate fishing equipment coverage. And on-water towing if your boat becomes disabled.
Powerboat Insurance
Powerboats, or ski boats, are built for speed. Coverages to consider here are Water Sports Coverage for tubing, skiing, and knee boarding. Plus, if the boat has fishing gear frequently aboard, Fishing Equipment Coverage.
Jet Skis, Sea-Doos, and WaveRunners
Speaking of popular, jet skis seem to be everywhere on New York's lakes. They go fast so liability coverage is essential (as it is with all boat policies) and Medical Payments to cover you or others if they're injured on your jet ski.
Boat Insurance from Scalzo, Zogby & Wittig, Inc
So give us a call for your boat insurance. We serve Utica and all of Central New York. We represent more than one boat insurance company so we can shop the coverages for you.
You're assured that you'll get the right coverage for your boat at the best price.
Enjoy the water this year!!
Until next time,
Your SZW Team
SZW Insurance is your Utica area Trusted Choice™ independent insurance agent. Call us for a quote on insurance for your home, car, business, or life at 315.792.0000. Or request a quote here.