A Skunk Got Into My House!! Am I Covered?
August 7, 2018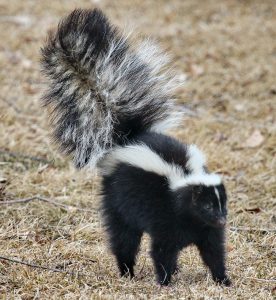 Have you noticed the invasion of wildlife into the Mohawk Valley's domestic tranquility? One of our friends in Utica told us of a woodchuck taking up residence in his garage. That's the year after raccoons were born in the rafter of the same garage. And, of course, bird's nests not only in the garage, but on the front porch.
Birds not a big deal? Have you ever opened the front door only to have a nesting robin swoop down on the attack? They're no storybook robins, they're downright mean.
All of this and small groups of deer roaming the streets of South Utica. And raccoons, bunnies, and skunks. What's with all the wildlife in the big city? And not only the city, but in New Hartford, Clinton, Whitesboro…everywhere!
One theory has it that there are no dogs running free anymore. Back in the day, the 50s, 60s, and 70s, there didn't seem to be any leash laws. Dogs were everywhere. If you walked across anyone's yard, you're always alert to intermittent doggy dew.
Today, no dogs allowed except on a leash. Has this caused the influx of wild animals in our yards and garages? We're not sure, but the idea makes sense. So in lieu of bringing back the dogs, your home is vulnerable to animal damage. After all, what if a skunk gets into your house because you forgot to close the back door?
Oh no! On a scale of one to ten, you might think skunk clean-up is closest to a ten. There's the air scrubbing, HVAC clean up, and carpet, upholstery, drapery, and laundry that absorb the stink.
And we've all seen on YouTube the wayward deer smashing through the glass doors or window, galloping through the house in a panic.
So, what about your homeowners policy and damage caused by wildlife? Damage that includes your dwelling and the contents. Let's take a look at the homeowner insurance policy and see what we find.
Homeowners Insurance for Your Dwelling and Other Structures
If you have a Homeowners 3 policy, you are covered for your dwelling (Coverage A) and other structures (Coverage B) for "…risks of direct physical loss to the property described in Coverage A and B, EXCEPT:"
Translation: You've got coverage for anything that happens to your dwelling and other structures unless it's excluded. That's broad coverage, but there are things that can happen where your insurance won't pay.
Here we're concerned with damage caused by animals. Are there any exclusions?
Yes, there are. "Loss caused by: birds, vermin, rodents, insects or domestic animals. However, the breakage of glass or safety glazing material which is part of a building, storm door or storm window by a bird or domestic animal is covered."
So it all depends on how animals are classified. Birds and insects are obvious. Damage they cause is not covered (unless to glass). But what about our skunk? Or the woodchuck or deer?
Well, let's check out our Wikipedia to find out how science classifies these animals: woodchucks are rodents, so it appears their damage would not be covered. How about a skunk or deer? They're both listed as mammals, so it looks like the damage they cause would be covered.
Homeowners Insurance for Your Contents
Unless you purchase a special homeowners policy, your contents are covered for a list of perils only. They include fire, wind, theft and more. But not animal damage. So it doesn't matter what kind of animal gets into your home, damage they cause to contents isn't covered. That means the skunk smell on your furniture and clothing will be your responsibility.
As to the "special homeowners policy" mentioned above, give us a call and we'll explain it to you. It greatly broadens the coverage you get for your stuff. And remember, all losses are subject to your deductible.
Regardless of coverage, we truly hope you won't have to suffer a loss because of an animal. Nothing against wildlife, but let's hope they stay in the wild and not your house!
Until next time,
Your SZW Team
SZW Insurance is your Utica area Trusted Choice™ independent insurance agent. Call us for a quote on insurance for your home, car, business, or life at 315.792.0000. Or request a quote here.