It Could Happen To You: Typical Home Owner Lawsuits
August 14, 2018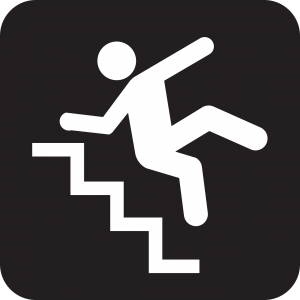 When most of us think of our lawsuit crazy society, corporate misconduct comes to mind. Law firms advertise on television their expertise with asbestos claims or illnesses caused by certain drugs.
And everyone remembers the woman who sued McDonalds after she spilled a hot cup of coffee on her lap. (According to Wikipedia, the suit resulted in a confidential settlement but may have been in the $640,000 range!)
But that's just part of the story. The comfort and safety of our homes can lull us into thinking that a personal lawsuit can't happen to us. Or into forgetting that individuals can be sued for mistakes, or perceived mistakes, to others. But they can and they do.
Here are some of the most typical reasons homeowners get sued. Each one would be covered on your homeowners insurance policy's Personal Liability section.
Slips and Falls at Home
A guest to your home can easily slip and fall. He/she might step on a depression in the lawn. They may trip over some furniture on the front porch. Most often incidents like these don't result in a nasty lawsuit. But your negligence may result in a suit and settlement.
Dog Bites
According to the U. S. Department of Health, an astonishing 4.7 million Americans are bitten by dogs each year. But that's not all, 85% of bites occur at the owner's home. And, the Insurance Information Institute reports dog bites accounted for more than one-third of all homeowners liability payouts in 2015. So if you own a dog, you are susceptible to a lawsuit.
Friend Over for a Few Beers
For the most part, hosts of home parties have not been held liable for the actions of their intoxicated guests to third parties. But the problem is, hosts may be liable if they serve alcohol to a minor who gets into an accident away from the premises. Either way, a lawsuit is possible if homeowners are not careful when they serve their friends alcoholic beverages.
Sports
You hit a player with a golf ball. Even if you yell "Fore!", which we hope you do, you could be sued. Or you're driving a golf cart and run into another golfer. Carts start and speed up quickly, so you must be very careful not to hit your fellow players walking ahead of you. Each of these could generate a lawsuit. And your homeowners policy will cover you.
Your Homeowners Liability Insurance Coverage
For all these reasons, your homeowners insurance liability could be one of your most important coverages. The thing is, not only will your insurance company pay damages up to the limits of the policy, it will pay attorneys' fees. And that's even if a claim is false. This is a big deal because you still have to defend yourself though a suit may be frivolous.
In addition to that your liability policy includes Medical Payments To Others. Subject to the limit on your policy declarations, it will pay regardless of fault for medical expenses to a guest because of an accident at your house. And no lawsuit is necessary to trigger the coverage. So if your guest does slip and fall, you can offer to pay some, or all, of their medical bills.
There are limitation to motor vehicle liability (cars), watercraft liability, and aircraft. If you own any of these give us a call to talk about the right insurance for you.
And don't forget, if you're a renter, liability coverage is included in your renter's insurance policy. In fact, it's one of the best reasons to buy coverage if you're renting. You still can be sued for any of the above incidents.
All of this begs the question, do you have high enough limits of liability coverage on your current homeowners insurance policy? Call us if you're not sure. Higher limits are inexpensive and we can talk about a personal umbrella policy that would cover you over and above your homeowners policy and your auto.
If you're not a customer now, don't worry. Give us a call and we'll talk about your personal liability limits and maybe save you some money, too!
Until next time,
Your SZW Team
SZW Insurance is your Utica area Trusted Choice™ independent insurance agent. Call us for a quote on insurance for your home, car, business, or life at 315.792.0000. Or request a quote here.