5 Tips to Safely Kayak New York Waterways
July 20, 2021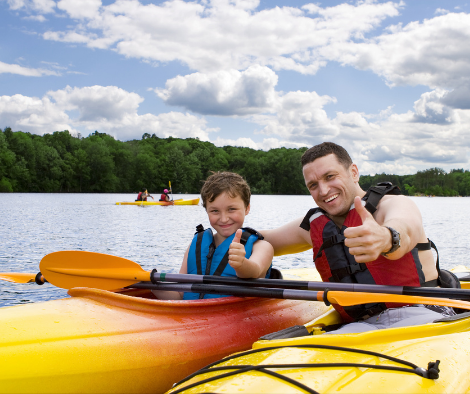 "New York State has more than 7,500 lakes, ponds and reservoirs and more than 70,000 miles of rivers and streams." And anyone who's visited the Adirondacks, Oneida Lake, or Black River has noticed the popularity of kayaking.
As much fun as it is, we thought this would be a good time to point out some of the dangers you may face in a kayak. There are some risks that we thought you should know about. Especially if you're new to kayaking.
We went to watersportswhiz.com to get tips on kayaking risks and how to avoid them. Here's what we found:
1. Wear a Life Jacket (Personal Floatation Device or PFD)
You might wonder if you must be a skilled swimmer to safely kayak. It's true, knowing how to swim is a big advantage. But swimmers do drown.
So whether you're a good swimmer or not, you should wear a correctly fitted life jacket. You'll be better able to get yourself out of a capsized kayak and keep your head out of the water.
2. Keep Track of the Wind and Weather
The wind can kick up quickly on an open lake. It could easily take you by surprise. If you're too far out, it may be difficult to get back to shore. The advice here is to be aware of your environment.
Is it windy? How big are the waves? Is it colder than usual out? Say it's during the afternoon, the wind has picked up, and the waves are larger than usual. In this case, it's best to wait for another time. The wind and waves can be relentless. And they won't give in to your tired muscles.
3. Beware of Cold Water
Danger lies in water 60 degrees Fahrenheit or below. If you fall into it, you may become incapable of moving or breathing.
It's the first minute of exposure that's the worst. It can feel like the air is getting sucked out of your chest. Your muscles get paralyzed. You become disoriented and dizzy. You may lose the ability to swim, become confused, and ultimately lose consciousness.
So if you're paddling in cold water, it's recommended that you wear a wetsuit or a dry suit. Have a PFD on and paddle in a group.
4. Swift Currents Can be Deadly
The popular 1972 movie, Deliverance, depicts an extreme example of whitewater paddling. We don't know of any place in Central New York or in the Adirondacks that dangerous. But there still are rivers where swift currents are part of paddling fun.
If you expect to traverse some rough water, not only should you have on your life jacket, but also a helmet. Falling into swift currents is extremely dangerous. Not only can you be pulled under water and kept there. But you can also collide with rocks, logs, or other objects below the surface.
A life jacket and helmet will offer some protection.
5. Alcohol
We frequently talk in our blog about the dangers of drinking and driving. But did you know that alcohol is the leading contributing factor in fatal boating accidents? In 2018 that amounted to 19% of total fatalities.
In fact, alcohol is in the blood of up to 70% of all drowning victims. So get tipped over in a kayak after "having a few" and you will not only panic. Your judgement and physical ability to get yourself out of trouble will also be impaired.
Turns out mixing drinking and kayaking is as bad a combination as with any water activity.
We hope this makes sense to you. In short, take note of the weather, wear a life jacket, and don't drink when you're in the water. Kayaking is popular and a great way to enjoy our beautiful New York State waterways. Let's keep it safe out there.
Until next time,
Your SZW Team
SZW Insurance is your Utica area Trusted Choice™ independent insurance agent. Call us for a quote on insurance for your home, car, business, or life at 315.792.0000. Or request a quote here. In Westchester County call Zak Scalzo at 914.246.0315 or email at zaks@szwinsurance.com.