Your New Year's Personal Umbrella Insurance Checklist
January 24, 2017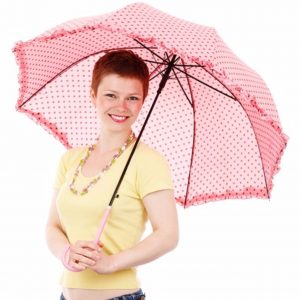 We're well into the New Year and it's time to talk about personal umbrella insurance, the last of our three "personal insurance checklist" posts. First we offered a list of auto coverages for you to check from your own policy. Then we talked about homeowners insurance.
Both of those policies included separate coverage for lawsuits. In this post, let's go over a policy that covers you for both auto and homeowners liability claims! It's one we highly recommend called a personal umbrella liability policy.
We're sure you're aware that we live in a litigious society. People who get hurt, whether from a slip and fall, dog bite, or car accident often sue for damages. As we mentioned briefly the last couple of weeks in our quick insurance checklists, there is coverage for lawsuits in your auto and homeowners insurance policies. But is it enough? And if it isn't, what's the best way to get more coverage at a price you can afford?
The answer is with a personal umbrella policy. It's a way to get even more protection at a surprisingly low cost. Most of our personal lines insurance companies offer umbrella coverage, so no matter where your auto and homeowners insurance is, we'll have an umbrella policy for you.
If all this sounds pretty good, then take a further look into an umbrella coverage checklist.
Why is it Called Umbrella Insurance?
An umbrella liability policy is designed to cover for catastrophic liability claims against you. It's called an "umbrella" because it kicks in after your auto or homeowners policy has already paid out its limits. In that way, it's an umbrella of liability coverage protecting you over your auto and home insurance policies.
What If I'm Sued for a Car Accident. How About a Friend Falling at My Home?
The policy protects you from bodily injury liability and property damage claims. You may hurt some else in a car accident or badly damage a person's house. You could be sued if a friend is helping you repair your roof and he falls off it. He may be severely hurt and sue you for financial losses that could continue the rest of his life.
Additionally, an umbrella can also provide broader coverage than your homeowners insurance. That includes lawsuits from libel, slander, and false arrest.
How Much Does an Umbrella Policy Cost?
Our umbrella policies are affordable. They range in price from $150-$200 for a $1 million dollar policy. Call us for quotes. And your rates don't double if you purchase $2 million. We'll give you the figures for more and you decide.
Also, you must carry certain minimum limits on your car and home insurance policies. These are inexpensive coverages and you may already have enough without making any changes.
Why Is a High Personal Liability Limit Policy Important?
All of your personal assets are exposed to a lawsuit. And your assets include your home, cars, retirement accounts, savings, investments, and checking accounts. You could lose enormous amounts of money with just one poor decision while driving or because of a fluke accident at your house.
To prevent these catastrophic losses, our clients buy a personal umbrella policy. As we've said before, we encourage our customers to call us for a quote. If you're not a customer now, that's ok. Give us a call to talk about your auto, home, and umbrella insurance policies. We'll offer you a second opinion on coverages and shop our companies for the best prices.
Until next time,
Your SZW Team
Scalzo, Zogby & Wittig, Inc. is your New Hartford area independent insurance agent. Call us for a quote on insurance for your home, car, business, or life at 315.792.0000. Or request a quote here.