Your New Year's Car Insurance Coverage Checklist
January 3, 2017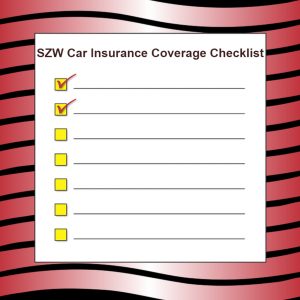 If one of your resolutions this year is to get control of your personal finances, then we'd like to help with this car insurance coverage checklist. This is the first of three posts you can use to help you review your current personal lines insurance coverages.
These post will include today's,  the coverages on your car or truck, and then your home and possessions and your liability exposures. We're here to safeguard you from disasters that can financially devastate you and your family.
The things we're looking for are the types of coverages and amounts of insurance. Consider the checklist below as a guide to get you thinking about the often confusing world of auto insurance coverages.
We understand that it can seem overwhelming at times, so we encourage you to call us after reviewing the checklist. And don't worry if we don't have your insurance right now. We can still go over what you have and then shop your coverages with our companies. We'll have them compete for your business to make sure you're getting the best pricing possible.
So let's start…
Good Car Insurance Coverage
¤ You Get Sued for Hurting People
Minimum bodily injury liability limits you must carry in New York State are $25,000 for bodily injury each person in an accident and $50,000 for bodily injury and death of two or more people in an accident. This is very low, so get quotes for higher limits. You can easily be sued for more than the minimum and the cost for higher limits is surprisingly reasonable.
¤ You Get Sued for Damaging a Person's Property
Minimum property damage liability in New York State is $10,000 for a single accident. Think how many cars are driven today that are worth more than $10,000! Get a quote for $100,000 of coverage here. Then, if you hit a Mercedes or a Jaguar and the accident is your fault, you won't have to dig into your own wallet to pay the damages.
¤ You or the Passengers in Your Car Get Hurt
This is where no-fault car insurance comes in. (We call it Personal Injury Protection or PIP.) Even if an accident is not your fault, you can collect immediately on your policy if you and/or your passengers have medical bills and loss of income.
Minimum limit in NYS is $50,000, but for very little extra, you can buy an additional $100,000 of coverage per person that includes higher monthly work loss. We highly recommend this, so call us for a quote.
¤ You Get Seriously Hurt by the Other Guy and It's Not Your Fault
What if you're injured in a car accident and you sue the other guy. That's your right, but then you find out he has either no insurance or lower limits than you do. You win the lawsuit but he doesn't have the money to pay.
Believe it or not, there is a coverage for exactly this on your auto insurance policy. It's called Uninsured/Underinsured Motorist. If you sue and win, you can revert back to your own insurance to collect if the other person has lower limits or no insurance at all.
¤ Your Car is Damaged in an Accident
You'll usually see coverage for your car listed as Collision Loss and Other than Collision Loss. You'll know there's coverage if you see the deductible amount listed. If you have Collision Coverage, your insurance is there for you if your car is damaged in an accident. Check the deductible and see if it's worth it to save money by increasing it.
¤ Your Car is Damaged by Something Else
Things can happen to your car that aren't caused by a traffic accident. A tree can fall on it or it can get stolen. We cover you in these cases with Other Than Collision Coverage, also called Comprehensive Coverage. Damage to your windshield and rear and passenger windows is also covered. The thing we recommend here is that you get full window glass without a deductible. So if a stone hits your windshield and causes a crack, your policy will buy you a new windshield, no deductible.
This is not an all inclusive list of every coverage you get in your auto insurance policy. The main thing as you work your way through this checklist is that you should feel free to call us with questions. Don't worry if we don't carry your car insurance coverages…call us anyway. We can answer your questions and offer you a second opinion on your insurance amounts and pricing.
Next week, look for our New Year's Homeowners Coverages Checklist. This will help you review the important insurance amounts on your home and your possessions.
Until next time,
Your SZW Team
Scalzo, Zogby & Wittig, Inc. is your New Hartford area independent insurance agent. Call us for a quote on insurance for your home, car, business, or life at 315.792.0000. Or request a quote here.