What You Can Do To Prevent Car Theft
February 7, 2023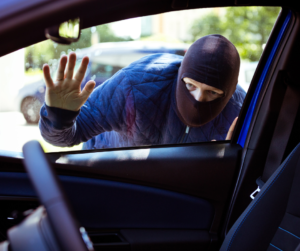 We saw a disturbing article in the Utica OD last weekend. It's about two insurance companies who are refusing to insure certain cars for theft. And this a result of a viral TikTok challenge that caused a gigantic surge in car thefts.
The vehicle makes affected are 2011-2021 Kia and Hyundai models. 2021 insurance claims records from the Highway Loss Data Institute (HLDI) report Kia and Hyundai models from 2015 to 2019 are about twice as likely to be stolen as other vehicles of the same age.
We won't get into what makes these cars easier to steal. Or the insurance companies that are modifying their underwriting rules and pricing for these particular cars.
Thing is, car theft is a bigger problem than this particular news item.
According to the National Highway Traffic Safety Administration (NHTSA) 804,000 vehicles were stolen in the U. S. in 2020. This cost vehicle owners more than $7 billion just in that year alone. And of this amount, 74% are passenger cars. All of this amounts to a vehicle stolen every 39 seconds in the U. S. in 2020!
So what can you do to prevent thieves from getting their hands on your vehicle?
We hope these common sense tips will help.
What You Can Do to Prevent Car Theft
When you park, choose an area that is well-lit and secure.
Lock doors and close windows when parking the car.
Take your keys with you every time. Don't leave them in the vehicle when you leave the car alone.
Don't hide spare keys near the car while it's parked in your garage.
Avoid leaving valuables in plain sight inside the car.
How to Equip Your Car to Ward Off Theft
Install an alarm system and/or a steering wheel lock in your car. Also an immobilizer that will prevent the engine from being started without a specific key or code.
Use a GPS tracking device or vehicle recovery system. This will help law enforcement get the location of a stolen vehicle.
What About Insurance for Car Theft?
If your car is stolen, you can make a claim if you have Comprehensive Coverage on your auto insurance policy. This is the optional physical damage insurance that pays for damages to your car not caused by a collision. This includes theft, fire, vandalism, hail, wind, falling objects, and more.
If you're a client of Scalzo, Zogby & Wittig, Inc. call us if you're not sure that you have Comprehensive Coverage on your vehicle.
Not a client? No problem, give us a call. We'll go over all of your coverages, including liability, no-fault, comprehensive, collision and more to be sure you have the right protection.
Then we'll shop our 21 insurance companies to give you the best coverage at the most competitive price.
And, remember, if any covered cause of loss happens to your car, your claim will be handled by our full time claims manager, Cathy LeTray. She'll guide you through the process for a prompt and fair resolution.
So please do everything you can to keep your car out of the hands of thieves. Make sure when you come out of the grocery store with bags full, you find your car safely where you parked it!
Until next time,
Your SZW Team
SZW Insurance is your Utica area Trusted Choice™ independent insurance agent. Call us for a quote on insurance for your home, car, business, or life at 315.792.0000. Or request a quote here.