Vehicle Break-Ins Plague Utica Area
December 14, 2021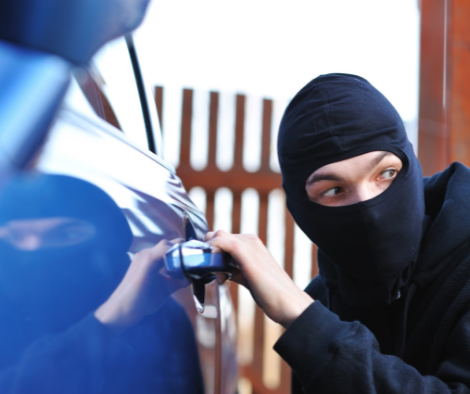 A friend of ours told us recently about his car getting ransacked by petty thieves. It was in his garage in South Utica. As he got in the car the next morning he noticed the glove compartment was open and emptied. He found his owner's manual down the street, torn apart on a neighbor's front lawn.
The thieves got some loose change from the console, but that's about it. Fortunately, they didn't take the registration that was in the owner's manual, just the money. Our friend was annoyed. But he also felt exposed, his family's privacy invaded.
All of this happened a year or so ago. But it continues in the Utica area. In mid-October the Utica police reported property from 20 cars in Ilion stolen in one night! Then thieves struck North Utica. Earlier that week Sauquoit was hit.
The police do have surveillance video of the perpetrators. But nothing close enough to ID them. However, the video does reveal how quickly the thieves enter the driveway, get into the vehicle, and run. They even use bicycles, which indicates they may be young.
Speaking of young, we've also heard of another fast one perpetrated on Utica area drivers. And it's a dangerous one!
One of our insureds informed us that he believes his car's lug nuts were intentionally loosened. He told us that he had heard there was a national "Lug Nut Challenge" on Tik Tok. The idea was that pranksters would loosen the lug nuts on your car. Then they record you as you drive away with a loose tire.
Our research revealed that, as it turns out, Tik Tok probably isn't the source. And the "Lug Nut Challenge" may not even exist. Yet our insured told us that the repair shop he took his car to has had several cars with loose lug nuts brought in to him. And the towing company warned him that they have too.
The upshot is that we know vehicles are being broken into while parked at home. And it's happening at an alarming rate. And no matter how the lug nuts on Utica area vehicles are getting loosened, it poses an extreme danger to drivers.
So, what can you do about it? First off, lock your cars at night. We know how safe everyone feels here in the Mohawk Valley. It's one of the unique advantages of living here. But we suggest you get in the habit of locking up before you get into the house. You won't regret it!
And for the time being, let's keep an eye on our wheels. If this is a social media inspired prank, it's dangerous and could cause you lots of grief. If it's just coincidence, better to be safe than sorry.
There's enough good stuff going on in the Utica area during this joyous time of the year. Let's not let petty thieves and social media pranksters get in the way of our celebration!
Until next time,
Your SZW Team
SZW Insurance is your Utica area Trusted Choice™ independent insurance agent. Call us for a quote on insurance for your home, car, business, or life at 315.792.0000. Or request a quote here.