The Most Common & Deadly Mistakes Made with Home Generators
September 27, 2016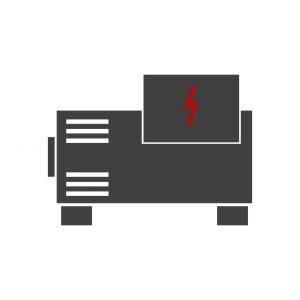 It sure is inconvenient during those rare times when the power goes off here in the Mohawk Valley. In fact, just last Saturday morning 17,000 National Grid customers in the Utica area were without power. A line on a transmission tower in Walesville fell down across another line causing the outage.
While outages are usually from a severe thunderstorm or wind, the time the fridge is off and the TV doesn't work is a pain.
That's why people like to have a home generator handy. Fire it up and the power is back on until the outage is fixed. But generators also pose risks from carbon monoxide poisoning, electric shock/electrocution, and fire.
So we went to Consumer Reports to find some safety tips that you should keep in mind if you have purchased a home generator.
Generators can quickly throw off high levels of carbon monoxide (CO). You cannot smell or see CO. If you start to feel sick or dizzy while the generator is on, get to fresh air immediately. CO poisoning happens fast and if you don't get away, you could pass out and even die.
Because of the CO danger, don't ever use the generator inside, even in the basement. And opening windows and doors won't help if you run it inside because it still builds up carbon monoxide. So, if you have to start up the generator, do it outdoors away from doors, windows, and vents that would allow CO to get in. Find out more here at the government's Consumer Product Safety Commission…this is well worth the quick read.
Don't let the generator get wet to avoid electrical hazards. Make sure you operate it on a dry surface under an open, canopy-like structure. And dry your hands before touching it.
Plug appliances directly into the generator or use a heavy duty, outdoor rated extension cord.
Don't try to power the house wiring by plugging the generator into a wall outlet. This is known as "backfeeding" and it is very dangerous. It places utility workers and even neighbors served by the same utility transformer at risk for electrocution.
The best thing to do is use an appropriate power transfer switch installed by a professional.
Turn your generator off and let it cool down before refueling. Spilled gasoline on hot engine parts could ignite.
Store fuel for your generator outside of living areas. Don't put the gasoline in the basement or anywhere near a fuel-burning appliance. That includes a natural gas water heater in the garage.
If a fire does start while using your generator, we are here for you with your homeowners insurance. Remember to be sure your coverages are up to date. Call us on this and if we don't carry your home insurance, let us give you a second opinion. There's a good chance we could save you some money, too.
Until next time,
Your SZW Team
Scalzo, Zogby & Wittig, Inc. is your New Hartford area independent insurance agent. Call us for a quote on insurance for your home, car, business, or life at 315.792.0000. Or request a quote here.