Personal Property Insurance "Special" Limits, the Facts
September 20, 2016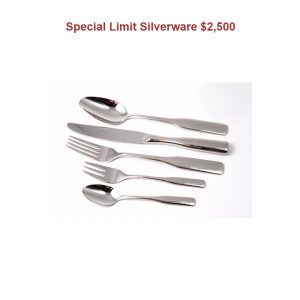 Did you know that your homeowners insurance policy covers your stuff everywhere? Here it is, straight from the policy, "We cover personal property owned or used by any Insured while it is anywhere in the world." Wow! So unless your chest of drawers is on the moon, it's covered! That is, of course, subject to all the coverages and limitations of your homeowners policy.
Which brings us to a certain set of limitations that we think you should know about. Your home insurance policy calls these limitations, "Special Limits." And "special" here doesn't mean "best." It's more about particular items common to households that are limited in the amount your insurance company will pay if there's a loss.
This doesn't mean that you can't get higher limits on these, but you must add them to the standard policy. So take a look at this list and make sure that if these limits are not adequate for your items, call us and we'll talk about getting you more coverage. Look especially at the limits on common items such as watercraft, jewelry, firearms, and business property.
Homeowners 3 Policy Special Limits Personal Property Insurance
$200 on money, bank notes, bullion, gold other than goldware, silver other than silverware, platinum, coins and medals.
$1,000 on securities, accounts, deeds, evidences of debt, letters of credit, notes other than bank notes, manuscripts, passports, tickets and stamps.
$1,000 on watercraft, including their trailers, furnishings, equipment and outboard motors.
$1,000 on trailers not used with watercraft.
$1,000 on grave markers.
$1,000 for loss by theft of jewelry, watches, furs, precious and semiprecious stones.
$2,500 for loss by theft of silverware, silver-plated ware, goldware, and gold-plated ware, and pewter-ware. This includes flatware, hollowware, tea sets, trays and trophies made of or including silver gold or pewter.
$2,000 for loss by theft of firearms.
$2,500 on business property on the residence premises in storage or as a sample or for sale or delivery after sale and business property pertaining to a business actually conducted on the residence premises.
$250 on business property away from the residence premises.
There you have it. And this list is taken directly from a Homeowner 3 policy. Your homeowners policy may be different and/or you may have additional insurance on some of these items. What we would like you to do, though, is take a look at the list and if you have any questions on whether you have coverage or need more, please call us.
Even if we don't have your homeowners insurance policy now, we can go over what you do have and offer a second opinion. Thing is, though your homeowners insurance is very good at covering your personal property, there are exclusions and limitations. We want you to know about them! So don't hesitate to call.
Until next time,
Your SZW Team
Scalzo, Zogby & Wittig, Inc. is your New Hartford area independent insurance agent. Call us for a quote on insurance for your home, car, business, or life at 315.792.0000. Or request a quote here.