SZW's Unconventional But Merry Utica MHA Christmas
December 22, 2020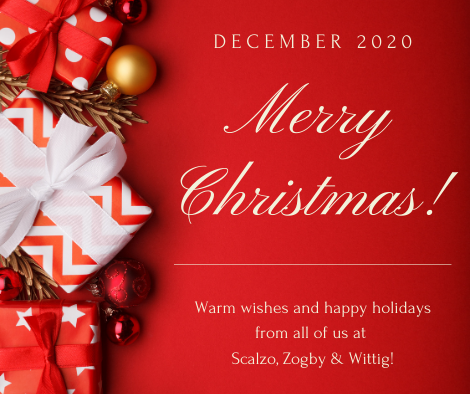 COVID-19 may have slowed us down, but it didn't stop us from sharing holiday cheer to four Utica families! Scalzo, Zogby & Wittig, Inc. is again partnering with the Municipal Housing Authority (MHA) with our annual Giveback Friday. This year we presented each family a $500 gift card to be used to purchase whatever they need for their Christmas celebration.
We started Giveback Friday years ago. The way it usually works is that everyone in the agency contributes $5 per month to our Casual Day Project. In return, we all get to dress down on Fridays.
But, as you can imagine, it's very different this year. Because of COVID-19, we're home during work hours. So we pretty much dress down anyway. But that didn't stop us! We still maintained our $5 per month commitment. And every employee participated.
MHA did reach out to us knowing that times were different for them, too, with COVID affecting many residents. We could skip it this year if wanted to. But we elected to go ahead, adopting four families.
So we did not do any shopping, wrapping or delivering as we have in the past. Each family received their gift card on Friday, December 11th. This allowed them time enough to purchase gifts for their loved ones.
We were disappointed that we weren't able to deliver the gift cards ourselves. But the employees of MHA were kind enough to send us a photo of each family receiving their card.
As our Casual Day chairperson Cathy LeTray said, "Hopefully, next year we will be able to go back to shopping, wrapping and delivering the gifts to each family. We are so lucky to be able to assist MHA but I do miss being able to deliver the gifts and meeting all the great families and employees of MHA."
We can't believe that a year has flown by already! We hope everyone is well.
And we wish all of our customers and friends in the Mohawk Valley a Merry Christmas and a Happy New Year!
Until next time,
Your SZW Team
SZW Insurance is your Utica area Trusted Choice™ independent insurance agent. Call us for a quote on insurance for your home, car, business, or life at 315.792.0000. Or request a quote here. In Westchester County call Zak Scalzo at 914.246.0315 or email at zaks@szwinsurance.com.