Relieve Stress, Gain Strength with These Deskercises
June 1, 2020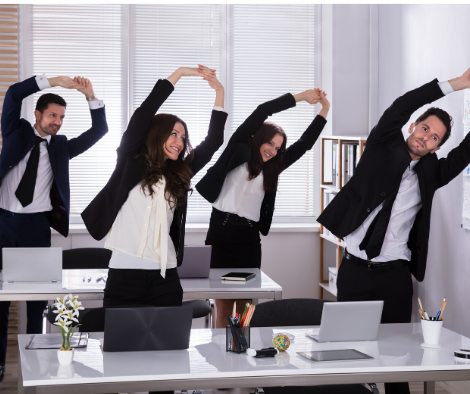 How can you exercise sitting at your desk all day? Don't you have to hit the gym at night? After work? Not necessarily. Ever heard of "chair yoga"? It's a way to loosen muscles and improve circulation with yoga poses using your chair.
And there's more. Exercises you can do while there at your computer. And now with the coronavirus shutdown, you can practice in the privacy of your own home.
We checked around to get some ideas. Here's what we found. And they're surprisingly easy!
Leg Planks
Sit at the edge of your chair with your feet on the floor. Extend one leg out until it's parallel with the floor. Hold it there for 10 seconds. Repeat with the other leg. Easy to do but you can really feel your leg muscles.
Back/Shoulder Stretch
Sit in your chair, feet flat on the floor. Raise your arms over your head with palms placed together. Bend to one side, hold for a few seconds, then repeat with the other side. Wakes up your sides, back, and shoulders.
Foot Tapping
Tap your feet for as long as you can. At least 30 seconds. Do it while just sitting there and you'll feel it.
Leg Cross Stretch
Place your ankle on the knee of your other leg. Twist to one side, hold, then repeat on the other side. Breathe and notice the alignment of your hips and spine.
Shoulder Raises
Raise your shoulders up to your ear and hold for 10 seconds. Relax. Do it 5 times. Then do the same with one shoulder at a time.
Wrist Stretches
Stretch your arms out in front of you palms up. Pull your fingers down for the finger and wrist stretch. Then stretch just your thumb. Then do the same palms down. You can also do wrist circles with open fingers and closed fist.
Chair Hold
On this one, be sure you have a solid chair. As you're seated in your chair, place your hands on the armrest. Move to the front of the seat. Slowly straighten your arms and lift your body off the chair. Hold for 10 seconds. Return to start and repeat 4 more times.
Back Twist
While sitting in your chair, place your right arm behind your lower back. Twist to the right and hold for 10 seconds. Do the same on the other side. Try to do three on each side. Nice tension reliever.
We wrote a blog post on repetitive strain injury that you'll also find very helpful. Working all day on your computer sounds like it's easy on the body. But it really isn't. This article has valuable tips on how to exercise your hands as you work.
We hope all of this helps you keep fit while getting your work done at the computer. People are often surprised at how much better they feel incorporating these exercises into their daily routine. They get stronger, the blood flows, and their muscles are loose.
Good luck!
Until next time,
Your SZW Team
SZW Insurance is your Utica area Trusted Choice™ independent insurance agent. Call us for a quote on insurance for your home, car, business, or life at 315.792.0000. Or request a quote here. In Westchester County call Zak Scalzo at 914.246.0315 or email at zaks@szwinsurance.com.