Fall Driving with Students, Leaf Peepers, & Deer, Oh My
September 27, 2022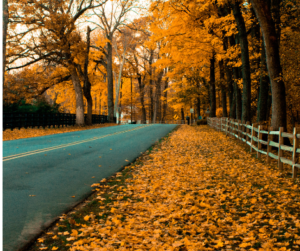 The days are getting shorter, the nights are getting colder, and the leaves are beginning to turn. Fall is here, and with it comes driving hazards unique to the season. So let's go through six situations on the road you may face this fall. And how to deal with them to avoid an always inconvenient accident.
1. Students
It's fall back-to-school season, and students of all ages are returning to classes. Be sure to keep a close eye out for increased traffic, especially in the morning. Also for school buses and kids walking to and from schools. If you live in a college town such as Clinton, Hamilton, or Utica, watch out for incoming freshmen still familiarizing themselves with the area.
2. Darkness and Light
The days are getting shorter, which means it gets dark earlier in the day. And let's face it, driving in the dark—with decreased depth perception, lower color recognition, and reduced peripheral vision—is difficult.
But driving during the day isn't much better. The sun is closer to the horizon during fall, which means that you are more likely to have sunlight beaming directly into your eyes than at any other season. We're thinking, for example, of the blinding sun on Genesee Street in Utica heading west late in the day. So make sure you keep a pair of sunglasses in your car for daytime travel. Also make sure your headlights are in good working order for when you drive at night.
3. Deer
If you live in Central New York, you already know to keep an eye out for deer. But according to the Insurance Institute for Highway Safety, you are 3.5 times more likely to hit a deer in November—the mating season—than at any other time of year. So while you are out and about, especially at twilight, make sure you're being just a little bit more careful while the deer are more active.
4. Fog and Frost
Fog and frost are the stuff that autumn dreams are made of, the first hint of cold after the blazing summer heat. But they also come with their own hazards. Fog reduces visibility, and even a little bit of ice when we're not used to it yet is even more dangerous.
There's also the fact that fall is just plain wetter than most other seasons. Thing is, with that increased wetness comes an increased risk of hydroplaning. To navigate these dangerous hazards, take the opportunity, if you haven't already, to do some basic maintenance on your car. Check your tire pressure, make sure your fog lights work, and replace your windshield wiper blades if needed.
5. Leaves
Changing autumn leaves are the most quintessential, most picturesque part of fall, the first thing that everyone thinks of when they think of the season. So, of course, they come with a whole host of dangers, both direct and indirect. Wet fallen leaves can be as slippery as ice. And leaves piled on the side of the road can cause cars to park further out into the street than they normally would, making roads artificially narrower.
Then there are the tourists, "leaf peepers," who drive up specifically to see the fall leaves and, thus distracted, are prone to slow, erratic driving. Give other drivers a wide berth, and drive carefully on slick roads, and you'll be fine.
6. Holidays
Fall marks the beginning of the holiday season starting with Halloween and Thanksgiving. There is the obvious danger of increased traffic during some of the worst road conditions of the year, but also, inevitably, there will be some people who finish celebrating and decide to drive when they really, really should not. Watch out for them, and make sure you're doing your part to keep the roads safe for everyone.
We hear from so many Utica area customers that when the leaves turn color in the fall, it's the most beautiful time of the year. But we do admit that with fall and the coming of winter, driving is more difficult. So it's probably a good time to make sure your car insurance is up to date. Whether you're a client or not, give us a call and we'll go over your coverages, discounts, and credits.
And enjoy our gorgeous Mohawk Valley fall season!!
Until next time,
Your SZW Team
SZW Insurance is your Utica area Trusted Choice™ independent insurance agent. Call us for a quote on insurance for your home, car, business, or life at 315.792.0000. Or request a quote here.