Cyber Security Major Concern for Business
October 12, 2021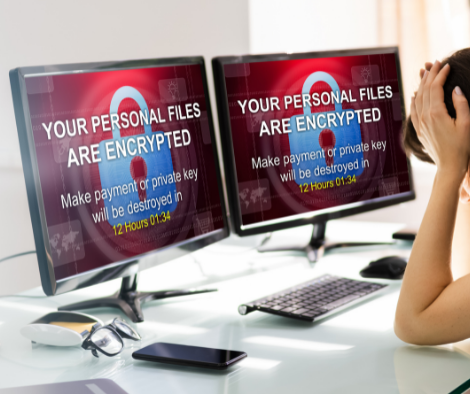 In 2021, cyber threats are a top concern for businesses nationwide. We know this from the Annual Risk Index Survey conducted by one of our companies, The Travelers.
The Travelers says, "Of the 1,200 business leaders who participated in the national survey, 59% said they worry some or a great deal about cyber, compared to medical cost inflation (53%) and increasing employee benefits costs (53%). The results mark a return to the top spot for cyber, which also ranked first in 2019."
October is Cybersecurity Awareness Month. We thought it a good time for another in our series of posts (see PS below) on this important national problem. We aren't the only ones worried, as Alan Schnitzer, CEO of Travelers, met with President Biden and members of his cabinet and security team to talk about improving the nation's cybersecurity.
Thing is, less than half of the survey respondents reported adopting basic preventative measures available to them. So the number of cyber attacks continues to increase. And they're getting more severe. In fact, 25% of the businesses surveyed have been a cyber victim, a 150% increase from 2015.
What the Travelers Risk Index Discovered
The top three cyber business concerns were security breaches, system glitches, and unauthorized access to bank accounts.
The percentage of respondents who reported a security breach where their system was hacked increased 40% to almost half.
More than 55% believe it is inevitable they will be a victim of a data breach or cyber attack sometime in the future.
Remote work makes it even more imperative that businesses protect themselves against attack.
56% of respondents report they've purchased a cyber insurance policy. That compares to just 39% in 2018.
What This Means for Cyber Security at Utica Area Businesses
What can you do about the growing problem of cyber breaches and attacks? Two things come to mind. One, do everything you can to secure your computer systems and protect yourself from attack. And two, look into getting cybersecurity insurance.
You might think, what about my commercial general liability and property insurance policies? The problem is, cyber risks are generally excluded from your traditional business insurance policies. This means you must purchase cyber insurance separately. Or as part of a commercial package.
Cyber insurance can cover losses such as data destruction and/or theft, extortion demands, hacking, denial of service attacks, crisis management activity resulting from data breaches, and suits for defamation, fraud, and privacy violations.
We represent more than one company that offers cyber insurance to our clients. In addition to the coverages above, they also help you prevent losses in the first place. Their risk management expertise is an integral part of control over your cyber risk.
For example, the Travelers offers Cyber Coaches, Pre-Breach Services provided by Symanteo, and access to Travelers eRisk Hub. The eRisk Hub is a private web-based portal with info and technical resources that help you prevent network, cyber and privacy events.
If you are a business here in the greater Utica area, call us to find out more about cyber risks and insurance protection. We'll work to get you the right cyber insurance coverage for the best price.
Until next time,
Your SZW Team
PS. 3 cyber security posts from our blog:
5 Cyber Security Trends to Watch for in 2021
Cyber Security for Employees Working at Home
Phishing? Ransomware? Botnet? What Kind of Cyber Attack is This?
SZW Insurance is your Utica area Trusted Choice™ independent insurance agent. Call us for a quote on insurance for your home, car, business, or life at 315.792.0000. Or request a quote here. In Westchester County call Zak Scalzo at 914.246.0315 or email at zaks@szwinsurance.com.