Active Cyber Insurance Protection
November 15, 2022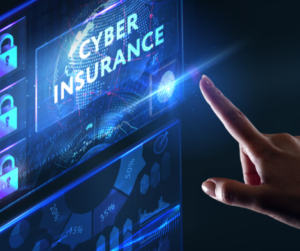 This is our fourth and final post in our series on cyber security for your business. We've talked about the biggest worries in cyber security in 2022, how to get started with a business cyber security program, and what to do if you are attacked.
In this post we'll talk about the insurance coverages available to you to mitigate the risk. And pay if the worst happens to your business. Be advised that this is a quick overview. It's not intended as a complete list of coverages.
But it's important that you are aware that coverage is available. And that we represent some of the best cyber security insurance companies offering this special coverage.
So we encourage you to call us so we can quote a policy based on your unique situation. For now, read on for a quick overview of what we'll talk about when it comes to active cyber security insurance.
Cyber Security Insurance
Cyber insurance policies offer first-party and third-party coverages. First-party insurance covers the expenses your business incurs because of a cybersecurity attack on your network or systems.
Third-party insurance provides protection for your company if you fail to prevent a cyber attack at a client's business.
Let's get a bit more coverage-specific. We'll refer to an insurance product we offer from Coalition, Inc. NOTE: This is a summary of coverages, not to be construed as an insurance contract. Refer to the actual policy for coverages and exclusions.
First-Party Cyber Liability Insurance
Computer Replacement: Pays costs to replace your computer systems that are permanently impacted by malware.
Fund Transfer Fraud: Pays for funds transfer losses from a failure in your security or social engineering.
Service Fraud: Pays additional amounts you're billed by a cloud or telephony provider when you incur fraudulent charges.
Digital Asset Restoration: Pays the costs to replace, restore, or recreate your digital assets damaged or lost following a failure of your security.
Business Interruption & Extra Expense: Covers financial losses resulting from a failure in your security, data breach, and systems failure. Also, extra expenses you incur to bring your company back online.
Cyber Extortion: Covers the costs to respond to an extortion incident, including money, securities, and even virtual currencies paid.
Breach Response, Crisis Management & Public Relations, Reputation Repair: Pays the costs to respond to a breach including 3rd party incident response and public relations experts, customer notification costs and credit monitoring, media purchases, and legal fees.
Third-Party Cyber Liability Insurance
Network & Information Security Liability; Regulatory Defense & Penalties; Multimedia Content Liability; PCI Fines & Assessments: Covers expenses to defend you and any damages resulting from your liability to a 3rd party, for regulatory fines and penalties, multimedia wrongful acts (infringement, defamation, piracy, etc.) and PCI fines and assessments.
Bodily Injury & Property Damage-3rd Party: Costs of defense and damages from your liability to a 3rd party when a failure in your security results in physical damage or injury.
Technology Errors & Omissions: Costs of defense and damages to a 3rd party when the failure of your technology service or product is the cause of loss.
We realize the above may be a lot to absorb in one blog post. But we hope you get the point that the implications of a cyber attack on your business are many. And can be disastrously expensive. So the risk management solutions must also be comprehensive.
That's where we come in with our insurance carriers to offer you not only the coverages above, but help with active monitoring, incident response, coalition control, and an active risk platform.
So call us today at 315.509.1188 or email and schedule an appointment to talk about your business, its technology, and your cyber security risks.
Until next time,
Your SZW Team
SZW Insurance is your Utica area Trusted Choice™ independent insurance agent. Call us for a quote on insurance for your home, car, business, or life at 315.792.0000. Or request a quote here.