6 Ways to Beat Drowsy Driving
June 8, 2021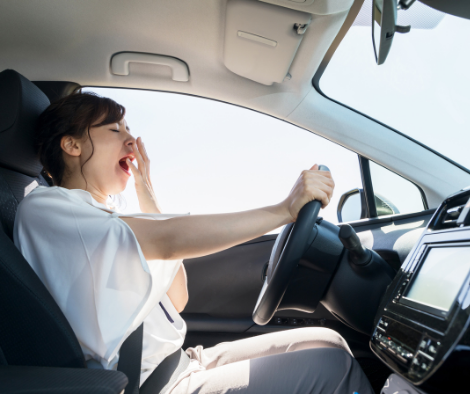 You're a passenger racing down the highway. The driver nods off. Oh, oh! A friend of ours told us about the time his wife did just that while on the New York State Thruway. He noticed, grabbed the wheel, shouted "Wake up!!!" and thanked God he got the car back in its lane.
According to the National Highway Traffic Safety Administration (NHTSA), drowsy driving caused 697 deaths in 2019. And falling asleep at the wheel can happen anytime.
The incident with our friend happened during broad daylight in the afternoon. In fact, drowsy-driving crashes occur most often between midnight and 6 a.m. Or late in the afternoon. These are the times that people's circadian rhythm dips enough to cause drowsiness.
And, as exemplified by our friend's grabbing the wheel in the nick of time, most drowsy-driving crashes involve only a single driver. Often passengers are able to save the day.
The other thing about these crashes is they often happen on rural roads and highways. Exactly like ours in the Utica area.
So, how do you avoid falling asleep at the wheel? Here are some tips to stay in the game:
Now you've heard it a million and one times: Get seven to eight hours of sleep every night. This is the best way to stay alert while driving around town or during those long highway trips.
Speaking of long trips. The night before heading out on the road for that family vacation, get an extra-good night's sleep.
Teens needs more sleep, yet they often stay up late. So they should delay driving until they get enough rest.
No alcohol! This one is obvious, drinking induces sleepiness.
Know your medications and whether they can cause drowsiness.
Avoid those peak sleepiness periods we discussed above. Between midnight and 6 a.m. and late afternoon. If you do drive during these times, stay alert to drifting out of your lane and/or hitting the rumble strips.
One thing you can do if you start to get sleepy on the road: drink one or two cups of coffee and pull over for a short nap. Studies have shown that after coffee and a twenty-minute nap, alertness can increase. Notice that you take the coffee first, before the nap. And beware that alertness gained with this method is temporary.
A warning: the 697 deaths we noted at the beginning of this article may not seem high enough to warrant concern. Thing is, it's not possible to determine exactly how many crashes are caused by drowsy driving.
The NHTSA estimates that "in 2017, 91,000 police-reported crashes involved drowsy drivers." These caused an estimated 50,000 people injured with close to 800 deaths.
But traffic safety and sleep science experts agree that these figures are low. They underestimate the danger of driving while drowsy.
It can happen to any of us, including our friend who grabbed the wheel from his wife just in time!
So be alert, drive carefully, and get where you're going safely and awake.
Until next time,
Your STW Team
SZW Insurance is your Utica area Trusted Choice™ independent insurance agent. Call us for a quote on insurance for your home, car, business, or life at 315.792.0000. Or request a quote here. In Westchester County call Zak Scalzo at 914.246.0315 or email at zaks@szwinsurance.com.