5 Top Business Trends 2021
February 16, 2021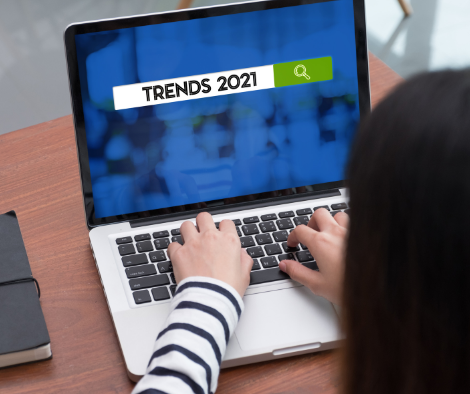 Utica area businesses have been put through the wringer with COVID-19 constraints. These limitations have changed the behavior of our customers. And rightly so, they're secluded at home. And working from there, too.
Thing is, the pandemic has accelerated change that was already happening. So, though we think relief is on the horizon, we wondered what businesses should be looking out for in 2021. Here's what we found…
1. Ecommerce Will Continue to Grow
If your house is like most in Central New York, you've been getting lots of packages on your doorstep since February of last year. For many of us, shopping in person just felt too dangerous.
People obviously were already shopping online. But the Small Business Administration refers to a surprising IBM report. It found that the shift away from physical stores to digital shopping was sped up by roughly five years! Ecommerce is projected to grow in 2020 by 20%.
The prediction is that this trend will continue. Even after the pandemic's restrictions are lifted. So businesses must get ready for this shift by optimizing their ecommerce presence. Make it as easy and seamless as possible for customers to buy your products online.
2. Alternative Payments Options Are Here to Stay
People have been used to online payments for years. But as we see above, cashless, checkless payments are here to stay. As Score.org points out, checks still dominate B2B payments. But it's thought that COVID-19 has made a significant dent in check payments. Surveys on this aren't out yet, but companies are preferring electronic payments.
B2C businesses are already experiencing no-touch payments and online payments with curbside pickup. Retailers expect these trends will continue and grow in 2021.
3. Remote Work Will Continue
Anecdotally, we're hearing from clients that many of their employees like working at home. They appreciate the "short commute" down the hall to their home offices. And some say they're getting more done.
There are downsides to remote work. But businesses who don't offer it after the pandemic is over may miss out on talented employees. A survey by Intermedia found that 57% of small to medium-sized business owners may agree. They said they would continue with remote work in the long term.
4. Computer Automation, Video Conferencing, and Cyber Security Become Priority One
Remote work has proven business reliance on their computer automation. And with COVID-19, companies' have discovered the effectiveness of video conferencing. Now Zoom is both a noun and verb. Telehealth and telemedicine have already surged. These visits are up 50% over pre-pandemic levels. Forrester Research predicts the number of virtual care visits in the U. S. will reach close to a billion in 2021!
And law firms, CPAs, and insurance agencies are already using Zoom to communicate with their clients.
With this reliance on the internet, cybercrime prevention will be a top priority in 2021. We have talked about this before. New protocols will be demanded of business this year when it comes to cyber safety. The implications of a hack and a business's liability are enormous.
5. Protection with Cyber Insurance from Scalzo, Zogby & Wittig, Inc.
This is an area that we can help in 2021. We offer cyber insurance with coverages tailored to different business needs. And our insurance company risk managers can help clients set up preventative systems. The goal is to avoid hacks, ransomware demands, and other cybercrime.
Commerce has changed radically during the last year. And as you see from the predictions above, expect that will be the new norm. Even here in the Utica area.
That means your business insurance program will also have to keep up with these fast changing times. New methods of payment, changing employee relationships, and cybersecurity are just a few of the issues we help our clients with every day.
Do you have questions on how to protect your business in 2021? Let's talk. Give us a call at 315.792.0000. We'll get your questions answered and quote the protection you need.
Until next time,
Your SZW Team
SZW Insurance is your Utica area Trusted Choice™ independent insurance agent. Call us for a quote on insurance for your home, car, business, or life at 315.792.0000. Or request a quote here. In Westchester County call Zak Scalzo at 914.246.0315 or email at zaks@szwinsurance.com.