SZW Takes the Amazing Utica's Finest Food Tour
October 29, 2019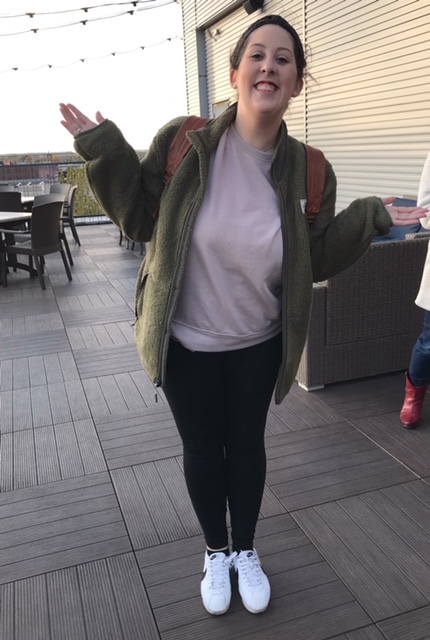 You hear it all the time. Utica restaurants have the best food anywhere. So when we found out about the new Utica's Finest Food Tour, we couldn't resist. We closed the office last Wednesday afternoon and took the whole crew on the Downtown Utica tour. It was so cool!
Tour owner Olivia Deck, a fellow Utican, was our guide (that's her in the top photo). We started at Jonny's Pizza on 100 Genesee Street for some "Utica-style pizza." Then a short walk to Liberty Street and Gerber's 1933 Tavern. A fantastic trip back in time with lots of charm.
From there we stepped across Genesee to Character Coffee and tried a Goth Latte. What's a Goth Latte? It's made with a bit of charcoal…that's right, and it's delicious! You can also try different coffees by choosing Character Coffee's famous coffee flight.
Next door we stepped into the Urban Market, a hidden treasure at 167-169 Genesee Street. It's a grocery store with beautiful apartments upstairs for "20-30 something" professionals. And very affordable rents.
After a short stroll up Genesee Street with some more fascinating Utica history, we found ourselves at the Ancora Mediterranean and Italian Restaurant. Here we sampled their yummy chicken riggies. (You can't miss when it comes to Utica's famous chicken riggies!)
We topped off our tour, literally, with a cocktail outside at the rooftop Ocean Blue restaurant. And, of course, oysters on the half shell as one of Ocean Blue's seafood specialties.
The tour takes about three very enjoyable hours and at every stop we were offered a taste of the restaurant's signature food. It also got each of us looking forward to the good times we'll have with our spouses, families, and friends at these fine downtown restaurants. Have guests from out of town? We guarantee you'll impress every one of them on this tour of Utica's best.
You can find out more at Utica's Finest Food Tour website. All of us here at Scalzo, Zogby & Wittig, Inc. highly recommend the Utica's Finest Food Tour. You'll love it!
Until next time,
Your SZW Team
SZW Insurance is your Utica area Trusted Choice™ independent insurance agent. Call us for a quote on insurance for your home, car, business, or life at 315.792.0000. Or request a quote here.