Settle into Your ADK Chair Around a Safe Fire Pit
July 12, 2016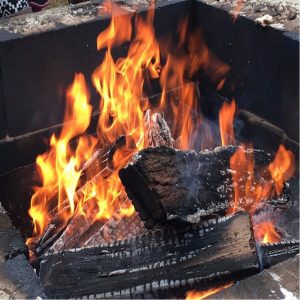 Have you noticed the popularity of fire pits here in the Mohawk Valley? So many people enjoying a few beverages around the glowing blaze. You can easily buy inexpensive "bowls" to enjoy in the backyard. Many people are installing sophisticated stone enclosures that are permanent fixtures.
Are you thinking of buying or installing a fire pit in your backyard? If so, we've searched the Web for some safety tips to make sure no one gets hurt or the fire doesn't get out of control. After all, you are "playing with fire" when you enjoy that backyard get together!
We got the following advice from the website at Mother Earth News.
Make sure your fire is at least 10 feet away from any building or structure but 25 feet is better.
Don't place the pit inside your porch or on a wooden deck! Be careful of low hanging tree branches, keep the pit away from these, too.
To keep the embers and flames contained, the pit should be at least 6 inches deep at the center and 2 feet across.
It's a bad idea to start the fire with lighter fluid or, even worse, a splash of gasoline. Better to start it with the fireplace starter sticks and bars you can get at the grocery store.
Don't put paper or garbage into the fire. They can easily throw off embers and burning remnants into the air and start a fire outside the pit.
When you're ready to leave the fire, extinguish it with water. Drown it out and stir it up to be sure it's extinguished.
This Old House magazine also recommends that you keep a bucket of sand, a fire extinguisher, or garden house nearby in case things get to hot to handle. They also recommend you burn dry, seasoned wood. Check out our post a while back on fireplace safety and see the section, "How to Select Firewood."
So you are probably asking, "Does a backyard fire pit effect our homeowners insurance?" The answer is no, you're okay if the fire pit does get out of control and damages your home. Thing is, even though it's covered, it's a big hassle when bad things happen. Contractors must be called and repairs made. Better to keep it safe.
But this may be a good time to be sure you have enough coverage on your dwelling in the first place. If you're unsure, or would like us to quote your homeowners insurance, give us a call. Also, be sure your Personal Liability coverage is high enough to protect you and your family from lawsuits.
So even if it gets a little nippy outside this summer, keep the party going with your back yard fire pit. But please keep it safe. You'll be very glad you did.
Until next time,
Your SZW Team
Scalzo, Zogby & Wittig, Inc. is your New Hartford area independent insurance agent. Call us for a quote on insurance for your home, car, business, or life at 315.792.0000. Or request a quote here.