It's Officially Barbecue Season in Central New York
May 9, 2023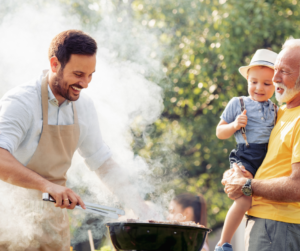 May is National Barbecue Month, which got us thinking about how popular barbecuing is here in the Utica area. For one thing, there's socializing with friends and family. Who doesn't relish the people you care about gathering together to enjoy food and conversation in a relaxed outdoor setting.
And speaking of the great outdoors, people in this part of the country enjoy spending time outside, especially during the warm summer months. Barbecuing allows people to enjoy the fresh air and sunshine while cooking and eating.
Another draw for barbecue lovers is the variety of foods you can prepare on the grill. So many options, from burgers and hot dogs to steaks, chicken, fish, and vegetables.
This variety allows people to experiment with different flavors and cooking techniques. As Julia Child once said, "The only real stumbling block is fear of failure. In cooking, you've got to have a what-the-hell attitude." We couldn't agree more!
And you can't beat the convenience of backyard barbecuing. It's an easier way to cook, requiring minimal preparation and cleanup compared to other cooking methods.
Now, as an independent insurance agency doing what we can to prevent accidents, we can't help but offer you our tips on outdoor cooking safety.
1. Choose a safe location: Set up your barbecue or grill away from flammable objects like trees, bushes, and buildings. Ensure that the grill is stable and won't tip over easily.
2. Keep children and pets away: Barbecues and grills can be dangerous for children and pets, so keep them away from the cooking area. Make sure they are supervised at all times, and create a safe play area away from the grill.
3. Use proper equipment: Cook with long-handled utensils designed for grilling to keep your hands away from the heat. Wear heat-resistant mitts and use long-handled tongs to turn food on the grill. Keep a fire extinguisher nearby, just in case.
4. Prepare the grill properly: Always clean the grill before cooking, and make sure the grease trap is empty. Check the propane tank or charcoal before lighting the grill, and follow the manufacturer's instructions.
5. Cook food thoroughly: Cook food thoroughly to avoid illnesses. Use a meat thermometer to ensure that meat is cooked to the appropriate temperature.
6. Handle hot coals safely: After cooking, dispose of hot coals safely. Let the coals cool completely before disposing of them, and never put them in a trash can or dumpster.
7. Monitor the grill at all times: Never leave a hot grill unattended. Keep an eye on the grill and the surrounding area to prevent accidents and flare-ups.
Backyard barbecuing offers a fun and casual way for people to enjoy food and the outdoors with friends and family, making it a popular activity for so many here in the Utica area.
By following these simple tips, you can enjoy a safe and delicious barbecue experience.
Until next time,
Your SZW Team
SZW Insurance is your Utica area Trusted Choice™ independent insurance agent. Call us for a quote on insurance for your home, car, business, or life at 315.792.0000. Or request a quote here.