Flood Protection for Utica Area Businesses
November 26, 2019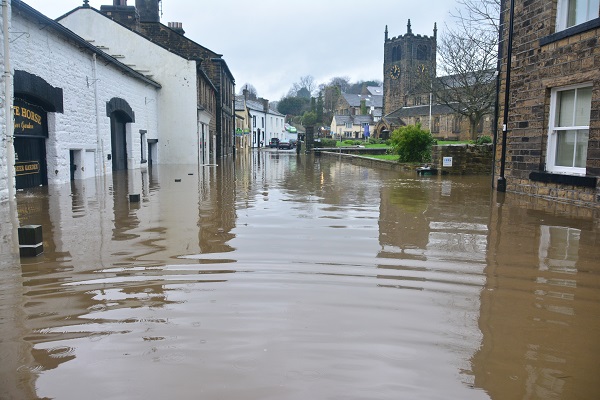 Many Utica area businesses were hit hard by torrential rains and flooding a few weeks ago. In our last post, we talked about protecting your business from heavy rainstorms. Today we'll offer tips on flood protection for your business
We went back to the Insurance Institute for Business & Home Safety (Disaster Safety.Org) to find out more. The tips listed below are directly from the web page on flood protection.
We must note here that we are not contractors or flood prevention experts. We suggest you consult with people who can help you with your particular buildings.
As we said in our last post, we highly recommend you visit DisasterSafety.org. You'll find all kinds of ways to prevent damage to your property. It includes info on ice, snow, hurricanes, fire and more.
Protect Your Utica Area Business from Flood
1. Take a look at where your business is located on our local flood maps. You'll see how likely a flood may occur near you. Even if you're outside the high-risk areas but nearby, you may still experience flooding.
2. Find the base flood elevation (BFE) of your building. This is the elevation at which the building has a 1% chance of flooding annually. You can find the BFE on newer flood maps. If you're below, consider elevating your structure to reduce its exposure to flooding.
3. Utilize dry flood proofing techniques. We'll summarize the Disaster Safety recommendations here. But we encourage you to see them along with helpful diagrams at the website.
Keep sandbags, plastic sheeting, and/or tarps on hand for minor flooding.
Install watertight shields over all doors and windows at least 3 feet above BFE or the 500-year flood level, if known.
Water filled barriers can be interconnected and stacked to divert water away from openings.
Install moveable flood gates, permanent swing flood doors or submarine doors.
You may have to consider permanent flood walls surrounding your property for repetitive and prolonged flooding.
4. Get a licensed electrician to raise switches, sockets, circuit breakers, and wiring to at least 12 inches above the BFE. This not only prevents damage but also fire from short circuits in flooded systems. Plus, know the cut-off points for electricity, gas, and water.
5. When you upgrade your building, use flood-resistant materials. That could include floor coverings, wall coverings, and wall insulation. Most flood-resistant materials can take at least 72 hours of contact with water without damage. And waterproof coat exterior and/or basement walls.
More Tips to Help Mitigate Utica Area Flood Damage
Landscape with plants and vegetation to prevent erosion. This also allows flood water to drain. Raise or flood proof HVAC equipment to prevent damage. Have backup electrical power to resume operations and reduce recovery time. Caulk cracks and utility pipe penetrations.
As we mentioned in our last post on heavy rain, check that downspouts funnel water away from the building. If you can, build a slope of the land so it directs water away from the building.
Make sure fuel tanks are anchored so they don't damage your building or get swept downstream. Get a licensed plumber to install a sewer backflow valve. This will prevent sewage from backing up into the building. Install a sump pump and sump pump backup. Lastly, be sure to store valuables, documents, or inventory above flood lines.
Buy Flood Insurance
This is where Scalzo, Zogby & Wittig, Inc. can help. Our agency provides flood insurance through the National Flood Insurance Program (NFIP). Thing is, flood is not covered on any commercial property insurance policy. And just as flood insurance is available for homeowners, it also is for businesses.
So give us a call and we'll answer your questions on flood insurance, including pricing. We can also give you your building's designation on our local flood maps.
We applaud local governments for wrestling with the Utica area's devastating flooding. And as you see above, there are things you can do to mitigate the damage. So get in touch with a contractor and/or architect to help you prepare your property for floods.
And call us with your questions about the National Flood Insurance Program. We can't control Mother Nature, but at least we can do our best to prepare for her.
Until next time,
Your SZW Team
SZW Insurance is your Utica area Trusted Choice™ independent insurance agent. Call us for a quote on insurance for your home, car, business, or life at 315.792.0000. Or request a quote here. In Westchester County call Zak Scalzo at 914.246.0315 or email at zaks@szwinsurance.com.